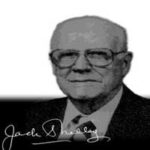 The Jack Shelley Award is IBNA's highest honor. This award is named for the former News Director of WHO, Des Moines, and Professor Emeritus of Journalism at Iowa State University, who died on September 15, 2010, at age 98.
The criteria for the Shelley Award
Service to Iowans
Nominees must have made an outstanding contribution to the cause of professional broadcast journalism in Iowa. They must, at some point in their careers, have been working broadcast journalists in Iowa. Stations or individuals can submit the name of any eligible person, whether or not the nominee has worked at their station/organization.
Professionalism
Nominees must have achieved a high degree of professionalism, dedication to broadcast news, demonstrated competence in the field, and a record of cooperation with fellow broadcast journalists.
Nominations
IBNA members and other interested parties may submit nominations to the executive director. Nominations must include documentation and evidence that the nominee meets the eligibility criteria.
The material submitted should discuss the nominee's professional history, achievements, and honors. Submit as much material and letters of support for the nomination as possible.
The Shelley committee—chaired by the 2022 recipient and made up of other recipients—will confirm all nominations and make this year's selection. The award will be presented at the 2023 IBNA convention. The deadline for entries is March 24, 2023.
Previous Jack Shelley Award Winners
2023 Rick Fredericksen IPR/KCCI Des Moines
2022 Roger Riley, WHO TV, Des Moines
2021 Tom Robinson, KSOM, Atlantic                                                         
2020 Chris Minor, WQAD, TV, Quad Cities   
2019 Pam Ohrt, KOEL Radio Oelwein, Wartburg College
2018 Matt Breen, KTIV-TV, Sioux City
2017 Trent Rice, KASI Radio, Ames
2016 Sue Danielson, WHO Radio, Des Moines
2015 Bruce Aune, KCRG-TV, Cedar Rapids
2014 Pat Blank, Iowa Public Radio
2013 Tim Fleming, KGLO Radio, Mason City
2012 Larry Wentz, KCAU-TV, Sioux City
2011 Mike Peterson, KMA Radio, Shenandoah
2010 John Lytle, Drake University, Des Moines
2009 Jeff Stein, IBNA
2008 Dean Borg, Iowa Public Television
2007 Mark Minnick, WOC Radio, Davenport
2006 Cary J. Hahn, KGAN-TV, Cedar Rapids
2005 John Bachman, WHO-TV, Des Moines
2004 Liz Mathis, KCRG, Cedar Rapids
2003 Dave Busiek, KCCI, Des Moines
2002 O. Kay Henderson, Radio Iowa, Des Moines
2001 Jim Boyd, WMT Radio, Cedar Rapids & WHO Radio, Des Moines
2000 Ron Steele, KWWL, Waterloo
1999 Kevin Cooney, KCCI, Des Moines
1998 Dick Michels, KSCJ Radio, Sioux City
1997 Dave Nixon, Iowa Lakes Comm. College
1996 J.K. Martin, KBUR-KGRS, Burlington
1995 Dave Shay, KGAN, Cedar Rapids
1994 Dennis Sutterer, Radio Iowa
1993 Dale Woolery, KRNT, Des Moines
1992 Ev Hickman, WHO, Des Moines
1991 Dean Naven, KVFD-KUEL, Fort Dodge
1990 Bill Henry, KBUR-KGRS, Burlington
1989 Rich Fellingham, KASI-KCCQ, Ames
1988 Ned Dermody, KMA, Shenandoah
1987 Tim Renshaw, KGLO, Mason City
1986 Jackie King, KIOA, Des Moines
1985 Paul Rhoades, KCCI, Des Moines
1984 Jim Vogelaar, KIOA, Des Moines
1983 Larry Huegli, KGLO, Mason City
1982 Cliff Brockman, KCAU, Sioux City
1981 Dan Miller, IPBN, Des Moines
1980 Larry Schmitz, KLEM, LeMars
1979 Bob Wilbanks, WHO, Des Moines
1978 Bob Bruner, WMT, Cedar Rapids
1977 Russ Van Dyke, KCCI, Des Moines
1976 Bud Chaldy, KASI, Ames
1975 Grant Price, Blackhawk Broadcasting
1974 Gordon Kilgore, KDTH, Dubuque
1973 Jim Bormann, WCCO, Minneapolis
1972 Dick Petrik, KOEL, Oelwein