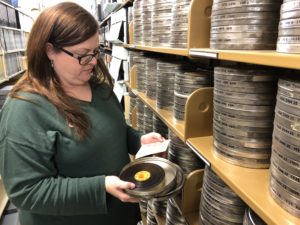 Efforts to preserve Iowa's broadcasting history recently got a boost with three grants totaling more than $218,000 to the Archives of Iowa Broadcasting (AIB) located at Wartburg College.
The money will be used to create an online catalog of more than 28,000 video and audio items in the AIB collection as well as digitize more of the film and tape in the archives. In addition, the money will pay for equipment to monitor the humidity and temperature in the archives storage area, and better containers for preserving the collection's film.
"The end goal is to provide easier access for people to find and view materials," Amy Moorman, the college's archivist, said. "That's why we keep materials, so people can use them," she said.
Besides the recordings, the collection also contains old broadcasting equipment, scripts, letters, memos and photographs from various broadcasters and stations around Iowa.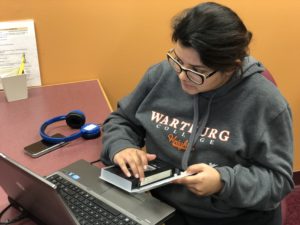 Grant Price, a longtime Iowa broadcast journalist and Wartburg College professor, began collecting material in the 1990s and storing them in his office and other places. When Wartburg's renovated library opened in the late 90's it included a space for the broadcasting archives, and the college's archives.
It's important to preserve the materials because they are more than broadcasting history, says another long time broadcast journalist Dean Borg, who is co-chair of the archives advisory board. They are the history of Iowa's issues and events, he said, and the audio and video add an important element.
"Here you're seeing what radio and television does for you. It brings you the sights and sounds of the news at that time, the facial expressions of the people who were making the news," he said.
AIB advisory board co-chair David McCartney of the University of Iowa agrees. He foresees researchers using the archives to study issues such as Iowa's politics and economy.
"There are all kinds of strands of disciplines that are interwoven throughout these magnetic and film media collections," he said.
Eventually, researchers won't necessarily have to come to the archives to see the material. Efforts to put materials online are progressing.
Currently about 200 video and audio items are online. But in early November an additional 2,200 video stories and newscasts from KWWL-TV in Waterloo were sent to an outside company for digitization. A number of 16-inch radio transcription discs from WHO radio are also being digitized. It will be many months though before the materials are online, Moorman said.

As for the future, McCartney hopes the researchers will be able to view traditional content, such as paper records from broadcasters and radio and TV stations, online as well as the audio and video recordings.
"I think more and more, we hope that the Archives of Iowa Broadcasting will be recognized as a potential historical research resource to tap into," McCartney said.
If you have materials to donate to the AIB, contact Moorman at amy.moorman@wartburg.edu.