The public is entitled to details of police investigations, including those when law enforcement officers kill or seriously hurt people, Cedar Rapids attorney David O'Brien told members of the Iowa Freedom of Information Council.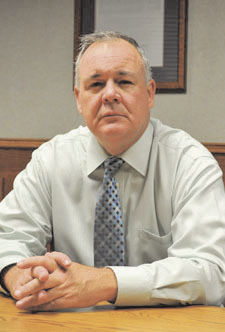 O'Brien spoke at the Iowa Freedom of Information Council's annual meeting, held virtually because of the pandemic, on November 13, 2020.
He has won several lawsuits against law enforcement agencies who's officers have killed or seriously hurt people during criminal investigations. In several of those cases, law enforcement refused to release details of their investigations.
In a highly publicized case, the Polk County Sheriff's office refused to release basic information and squad car dash-cam video after a deputy fatally shot a Wisconsin man following a high-speed chase that ended in Altoona in 2019. The Freedom of Information Council sued, and the county recently settled the lawsuit by agreeing to release the video and details of their investigation into the shooting.
O'Brien represented the family of the dead man. He noted in his speech that state law requires the release of information about police investigations. "We can't hold the government accountable," he said, "if we don't know what they're doing."
To encourage that release of information, he said an independent, statewide board is needed to investigate and possibly prosecute cases where law enforcement officers kill or seriously hurt someone.
In officer involved shootings, the state Department of Criminal Investigation is called in to investigate. But too often, O'Brien said, the DCI acts more like a criminal defense attorney trying to find ways to prove the police officer's innocence. He thinks an independent investigation board could avoid that.
"I'm not accusing people of corruption," he said. But when law enforcement officers investigate other law enforcement officers it becomes a "circle the wagon attitude that they have because they are a brotherhood."
However, he said most officers are doing a difficult, and at times dangerous job "without violating people's civil rights."
Even so, it's important for journalists and the public remain vigilant. Complimenting the Iowa Freedom of Information Council, O'Brien said "There are people out there right now that are safe because of the work you've done, making sure government wrongdoing is not a kept secret."