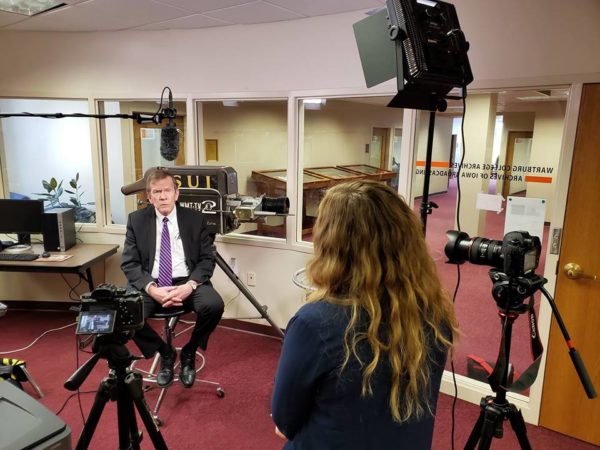 Iowa broadcast journalism icon Grant Price is the subject of a new documentary produced by a team of Wartburg College students.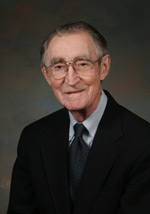 The project was part of the journalism and communication department's capstone course during the 2019 winter semester. "Grant Price: Setting the Standard" premiered in April at Wartburg and is now available on You Tube.
Before they began work on the documentary, none of the seven students on the production team knew much, if anything, about Price, Madison Bloker, the project manager, said. But, after working for more than 500 hours on the documentary, Bloker said that changed.
"I literally feel like he's a part of my life because he had such a profound impact on so many people.
"And it felt like we knew him," she said.
Price had a 50-year career in Iowa radio and TV news, then taught at Wartburg for another 15 years where he started the TV broadcasting program. He died in 2008. (Read Price's biography.)
The group chose Price as their documentary subject from choices provided by the course's instructor, Penni Pier. Pier worked with Price at Wartburg for several years.
"I understood inherently his role, not only in the history of Iowa journalism, but how he also contributed to journalistic practices nationwide." Because of that, she said, it was important to produce a documentary about him. "We are responsible to, and for, history," Pier said.
Documentary takes shape
At first, Katie Kreis, a digital producer, said the group focused on Price's impact at Wartburg. But after researching Price's career and receiving feedback from the department faculty, that changed.
"We realized that he was across the country such an impactful and influential guy. So, we needed to make this even bigger than we thought," Kreis said.
The students interviewed 30 people for the documentary, including former professional and faculty colleagues, former students, and Price's two daughters. They traveled to Des Moines, Marion, Iowa City, and Minneapolis, as well as Waverly, to do the interviews.
The documentary includes numerous pictures and film clips, many of them from the Archives of Iowa Broadcasting that Price founded while at Wartburg. Pier says that while the students interviewed lots of people who knew Price, the historical material from the Archives was key.
"A documentary full of talking heads about Grant isn't the same thing as hearing Grant's voice and seeing him on the screen," she said.The first draft of the documentary script and soundbites was 40 minutes, Bloker said. Since the assignment was for a 15-minute documentary, the team rewrote the script eight times, Kreis said.
Bloker said they learned several things about Price that people may not be aware of:
He was a leader in diversity in news coverage. He made sure the station's reporting included minorities, she said.
Price hired one of the first black anchors in Iowa (sports director Rick Coleman).
Price was one of the first to hire male and female co-anchors (Ron Steele and Liz Mathis).
Price was a "stickler for details." For example, he once sternly corrected Mathis for calling a ship a boat, she said.
And, Bloker said along with his deep interest in the news, Price was a devoted family man.
Beloved professor
Kreis said the former students they interviewed all talked lovingly about Price.
Former KWWL General Manager Jim Waterbury told them Price could have easily ended his career in the broadcast journalism field when he retired. But, Waterbury said Price "wanted to take the baton and pass it off to younger, strong writers. And that's exactly what he did."
Producing the documentary "was a huge learning experience for all of us," Kreis said.
Not only did they learn about making a documentary, she said, they also learned a great deal about journalism history.
Bloker echoed that sentiment. "I just feel really grateful the we got the opportunity to learn more about him."
See the team's website and their Face Book page.