John Bachman considered going into Christian ministry, but he says his love for broadcast journalism took him in a different direction, one that lasted for 40 years.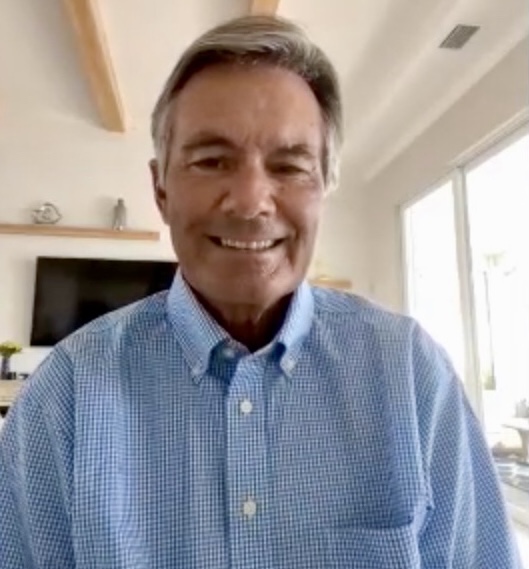 Bachman is a familiar face to central Iowans where he worked as an anchor and reporter at WHO-TV in Des Moines for 25 years before retiring in 2012. His 40-year career as a broadcast journalist also included jobs at WMT-TV (now KGAN) in Cedar Rapids, WMAQ-TV in Chicago, and KARE-TV in Minneapolis.
Paul Yeager of Iowa PBS and Cliff Brockman of Wartburg College recently interviewed Bachman from his Florida home for the Archives of Iowa Broadcasting Oral History Project.
Here are excerpts from Bachman's interview which have been edited for length and clarity. (Audio of the full interview is posted below.)
You're the son of a pastor, son of the former president of Wartburg college, and you're a Waverly Shell Rock High School graduate. So the church is calling you first? I don't know that I had a calling, but I certainly had the culture around me and felt that faith was important in anybody's life. And so that was a natural possible vocation. And my dad kind of encouraged me to think about it, although he didn't discourage me when I started in broadcasting in college. Summers I was over at KDTH radio in Dubuque and then I kind of moved up in summer jobs and got into some television experience. That was while I was still in college. Then I was in seminary up in St. Paul Lutheran Seminary for a year, and then I studied abroad for a year. During that whole time, I was also doing broadcasting. So, I hadn't had to make a (career) decision yet. It was around '72 when I had finally made a decision.
Was that a hard decision? You know, it wasn't because I found that I love broadcasting. And I knew that it wouldn't be fair to go into the church with that thought and that experience, guiding my love. So what I thought down the road was maybe I can use some of the training that I've had to kind of relate the two. It seems kind of odd to think that broadcasting and religion would have an interrelation, but I tried to do that in my career.
Did your career go as you thought it would? I think when I was young, I had visions of being a network anchor. But when I was in Chicago, I got firsthand experience of what network life is really like. Not only is it tense and anxious-filled, but you make a lot of sacrifices with your family life. And for me, family was really important. So I kind of reevaluated what my future was going to be. That was at WMAQ in Chicago, and it was a great experience for many, many reasons. But I think that really helped structure the rest of my career.
What was one of the big moments of your career? The Republican presidential debate of '99 was probably the one aspect of my career that will be a bit of a legacy. It was a question that I asked George W. Bush among the six candidates. Bush was third and responded to "What political philosopher-thinker do you most closely identify with and why?" And of course, everybody had said, the fathers of our country, Thomas Jefferson, and the like. Bush said "Jesus Christ." I said, "Well, I think our viewers would want to know how he becomes this most important political philosopher to you." Bush said, "Because He changed my heart." So I said, "I think our viewers want to know how he has changed your heart." And Bush came back with, "Well, if they don't know, then it's going to be hard to explain. But I gave my heart to Jesus Christ, my Savior, and he changed my life, and he changed my heart."
Hanna Rosen of The Washington Post said it's becoming known as campaign 2000's, "Christ moment." Howard Fineman of Newsweek wrote, "I think it was an extraordinary moment where secular politics and religious faith intersected." Maureen Dowd (of the New York Times) took a typically sarcastic view and accused Bush of playing the "Jesus card."
What do you think about the current state of the news business? There's so much misinformation, with private equity groups owning stations, and with all the technology and the social media, and the fragmentation, and the deregulation and everything. People don't trust the media anymore. And with good reason, because they're all doing more with less. They don't have the money, they don't have the audience. So they're aiming at one particular audience. And people do not know how to verify or check anything. I think in high school, there should be a journalism 101 course for everybody on how to be a reporter, how to be a fact checker. It doesn't take hardly anything, even going to factcheck.org or you can go to politifact.com They're both good.
You're starting to see stations come back with editorials. Has that been good for news? I'm more concerned with the shows that are just total opinion. And people get confused. They think they're news shows even though the networks still have their half-hour news broadcasts where there aren't intended to be opinions. People mix the opinionated shows with those newscasts. And so they say 'I can't watch anything. I don't believe anything.' It's a blanket whitewash of news programs. Not so much on the local level, fortunately, but yes, if you put the editorial afterwards, you know, I think that's okay. A quick story about Walter Cronkite, I interviewed him after he had retired and spent about an hour with him. And this topic came up because he told me that his superiors wanted him to do editorials. And he resisted. Back in the day, there were pieces of elucidation, they called them, done within a newscast, or analysis, but not really opinions. Eric Sevareid always bragged about just kind of analyzing the news. And Cronkite told me, "I knew that I could do it, but I didn't think the audience would accept me reading the news if I was also doing opinion pieces." And, you know, I think he saw ahead to where we stand today. He saw that people are not going to accept that. They don't believe that a newsman should do that.
Turning to something a little lighter, give us a humorous anecdote, perhaps an embarrassing moment on air for you?  I'm throwing it to Keith (Murphy) for sports. And he does two stories, one on Shawn Johnson, and one on Zach Johnson. Both were in the news on a regular basis. And he ends his sportscast with those two stories back-to-back. So he throws it to me, and I say, 'Keith, how do you keep your Johnsons straight?' And Keith is looking at me and he's such a great guy, he's not going to embarrass me. He's not going to laugh. But in the age of the internet that would have perhaps ended my career.
John Bachman received many awards and honors during his career, including the 2005 Jack Shelley Award from the Iowa Broadcast News Association, and induction into the Silver Circle of the National Television Academy.