Roger Riley has been named the 2022 Jack Shelley Award winner. Riley received the award at the Iowa Broadcast News Association's annual convention in April in Cedar Falls. The Shelley Award is the highest honor an Iowa broadcast journalist can receive. It is given to an individual for "outstanding contribution to the cause of professional broadcast journalism in Iowa".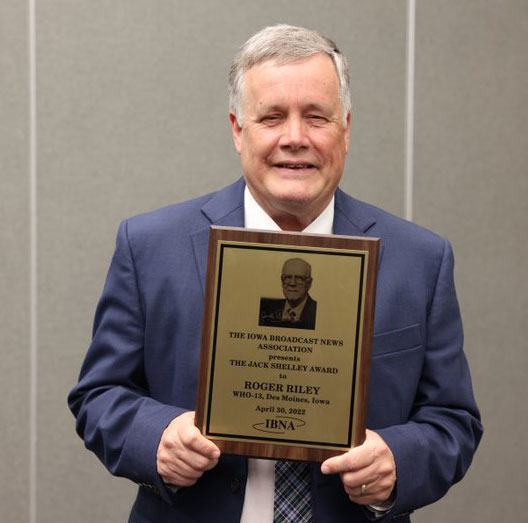 Riley has been a broadcast journalist for more than 40 years and is currently a multi-media journalist at WHO-TV in Des Moines. His hard news stories often lead the evening newscasts, and he travels to many parts of the state for feature reporting. Viewers also appreciate his severe weather reporting as he uses his camera equipped car.
Riley is a native of Norway, Iowa and his interest in broadcasting traces to his school days when his dentist's office was in the same building as WMT radio and TV. Curiosity about broadcasting that he had developed during a high school speech class led him to write a letter to the station, and they invited him to watch a noon newscast. He remembers telling his mother afterwards that "I'm never going to do that, it's too stressful. I couldn't ever do that." But he did.
A graduate of Eastern New Mexico University, Riley's first TV reporting job was in Roswell, New Mexico at KBIM-TV. However, he missed Iowa and his family and soon returned home where the legendary KWWL News Director Grant Price hired him for a job at KWWL's sister station, KTIV in Sioux City. Riley became KTIV's first Spencer Bureau reporter where he covered stories around northwest Iowa.
Riley's career also included: reporter at KSFY, Sioux Falls; Waterloo bureau reporter for KGAN-TV, Cedar Rapids; and reporter/photographer at WOI-TV, Des Moines, before joining the WHO-TV staff.
Watch an interview with Roger Riley from the Archives of Iowa Broadcasting
In an interview, Riley mentioned several memorable stories he's covered over the years:
A story that attracted statewide attention about a child that was missing for several days in northwest Iowa and finally found alive in a cornfield.
A feature story in Storm Lake about a person who received one of the first cochlear implants from the University of Iowa Hospitals and Clinics.
President Ronald Reagan's visit to Des Moines in 1982. "That was my first time ever seeing a president. So I thought, wow!" Roger said.
A ride-along with the Navy's Blue Angels during an air show in Waterloo.
The five-and-a-half-month strike by the UAW at John Deere in 1986.
The devastating floods of 1993 in Des Moines and 2010 in Ames.
The Immigration and Customs Enforcement (ICE) 2008 raid at the Agriprocessors Plant in Postville. ICE deployed 900 agents and arrested 400 workers who were illegal immigrants.
Lots of severe weather and tornado coverage over the years.
As you might imagine, technology during Riley's long career has changed dramatically, and he has embraced it all. When he started his professional career, the station in Roswell was using film. The station had a new CP 16 sound on film camera along with several Bell & Howell windup film cameras, and a film processor, Riley said. Then the industry moved to videotape with cameras connected to heavy tape decks, and now digital cameras and digital editing.
These days, Riley says he shoots much of his video on an iPhone, although he also has two cameras that he uses as well. He does most of his editing in the field using a laptop, recording his audio in the car with a blanket over his head to keep out extraneous noise, and then feeding his finished packages back to the station using Wi-Fi at coffee shops and other places.
As for the future, Riley has no immediate plans to retire. "I do like working, telling stories. I don't really have a set plan. I think I kind of take it one day at a time," he said.