One of Iowa's longest-serving radio sportscasters has finished a 51-year career, the last 48 years at KLEM in Le Mars. Denny Callahan retired April 1, 2021 after calling hundreds, if not thousands of sports events in northwest Iowa. He also worked as the station's morning announcer.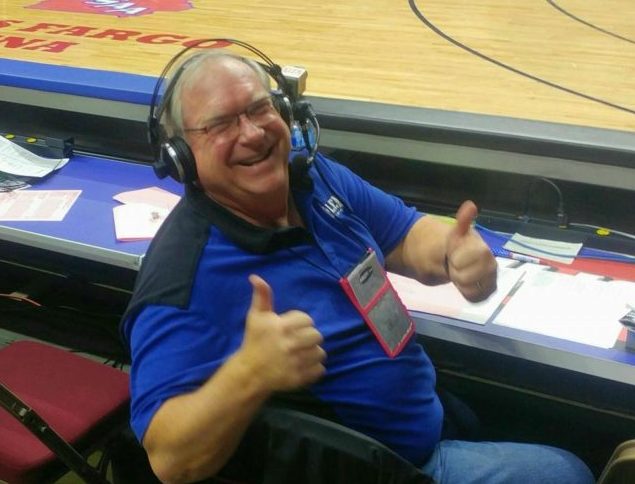 Paul Yeager of Iowa PBS spoke to Callahan and these are excerpts from that interview. You can listen to the full interview below. (Excerpts have been edited for clarity.)
Let's talk about your career. I saw this ad for a place called Career Academy. It was kind of a trade school to teach broadcast radio and television. And so I kind of investigated, got some information. They had schools all over the United States, but I chose Kansas City, Missouri to go to school, went down there for four months, and learned a little bit about the trade. But it was really my first job for Frosty Mitchell (legendary Iowa sports announcer) at KGRN in a Grinnell where I got my real lessons in radio announcing. I really appreciate Frosty giving me that first job because I was green as green could be. I didn't know what I was getting into for sure. But he was patient and taught me a lot.
What else do you remember about Frosty Mitchell? What did he teach you? Well, one of the things every game I've ever done in 51 years I recorded. And that's the thing that Frosty did. It was a good way to start critiquing games which continued into my days here at KLEM in 1973, and until the time I retired the other day. I used to spend my afternoons listening to them.
What were your career goals when you started? When I got into this, I thought I was going to be the voice of the St. Louis Cardinals one day. I quickly realized who gets those jobs. And that's gradually where I fell in love with high school sports. I realized those kids played their hearts out every night. They played it for just the love of being out there every weekend, good or bad. And I'm just happy to tell their story and be a part of their life in that respect.
So, KLEM, did they call you or did you call them? I called them (after hearing about an opening to do sports). When I came to KLEM in Le Mars, I planned on about a three-year stop. This was supposed to be a steppingstone, but the Bulldogs won the state football championship the first fall I was here, so that kind of intrigued me. Maybe this team, these guys will win quite a bit. Maybe I'll hang around here for a little bit and see how far this goes.
How would you describe your style is as a play-by-play person? I'm a storyteller. Every time they start a basketball game, for instance, or a football game, you kick it off or you tip it off. That's like you just opened a book to me.
I describe. I don't want to be a feature in the game. I'm just a part of the game. I usually start the game by talking about the uniform colors and I always want to give a backdrop to some of the other trimmings of the event, not just the game. Anybody can talk about the game, but I want people to feel like they're there. And that's the biggest compliment I think I can get. When people say, 'I listened to the game last night, man, I just felt like I was there.'
And your imagination was also an important part of your background? I always like to tell people when they ask, 'How'd you get started doing play by play?' that in reality, I was doing it as a kid in the backyard when my brother and I played Wiffle Ball. That was back when Major League Baseball lineups didn't change a lot, players didn't move around like they do today. So we knew their lineups. We knew when they hit left-handed, or right-handed. So we'd play one team against another and we were each one of those teams and, and I just did the announcing during the whole game.
Are there any moments that aren't the ultimate winning that stand out, you know, adversity, things like that and you were glad you were able to document for historic purposes? The Le Mars baseball team had never been to the state baseball tournament. And I believe it's 2014 and they won the conference title. They won the sub-state beating a Sioux City Heelan team that they haven't beaten very often in sub-states. They beat them and then it turned out Le Mars had used a pitcher that wasn't eligible to pitch. Twenty minutes later they had to carry the banner across the field and hand it to Heelan. It crushed me. Kids went from so happy to crying and it was a pretty heartbreaking moment.
On the positive side, I got to call a walk-off home run at the state baseball tournament. Gehlen won their first title back in 1995 on the walk-off home run down at Carroll and that was pretty special. There was a 99-yard kickoff return that same fall in '95 at the state football tournament by a kid named Brad Sysmon. And that's never been broken.
What are your future plans? It starts with my kids, my three kids are all obviously grown up. But I haven't been able to spend a lot of time with them, like I'd like to. They've sacrificed a lot so I can do this job and do it the way I wanted to do it. I know, they feel sometimes like they were secondary in my life, and they never really were. But this is just a time to spend more time with them.
I've got to tell you retirement's been good. I'm sleeping a little later. I feel pretty refreshed. Not getting up at four o'clock in the morning is wonderful.
When all is said and done. What do you think is going to be Denny Callahan's legacy?
I just hope they think that I was fair to everybody, whether it was the other team or our team. I tried not to play favorites, because I just knew everybody was there trying to do the best they could. I just like seeing kids achieve things and have success, nothing thrills me more.
Watch videos of other Iowa broadcasters at the Archives of Iowa Broadcasting Oral History Project.